授賞式の写真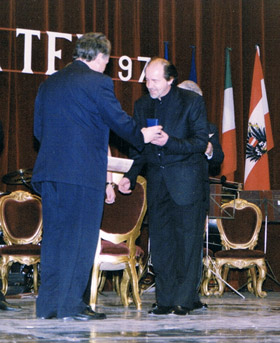 International Prize for the Music "Sebetia Ter" in 1997, Naples
Awards
Prize "Targa Frescobaldi" in 1992, Ferrara
International Prize for the Music "Sebetia Ter" in 1997, Naples
Honour diplomas for the didactic activity
16th Piano Competition "Città di Albenga" in 1993
9th Piano Competition "Gabicce Mare" (Pesaro) in 1995
International Competition "Città di Tortona" (Agimus) in 1998
3rd International Competition "Arthur Rubinstein" in 2001
Music competition juries
Member of Jury at the following International Music Competition:

Villar Perosa, Salsomaggiore, Ostuni, Castellaneta, Meta di Sorrento, A.C.I.S.A.M. in Naples, "Carlo Soliva" in Casale Monferrato (editions: 2004, 2006, 2008), "Città di Avezzano" competition - European Prize for Piano Performance (editions: 2007, 2008, 2009), International Piano Competition "S. Thalberg" 6th edition 2008

In 2001, by invitation of A. Ciccolini, Maestro Marian Mika took part as Jury Member at the 19th International Competition "A. Casella" in Naples.

From 2002 to 2009, he is president of the jury of the competition "La fabbrica delle note" in Padua for the best gradued students of the conservatories in Veneto.